[twocol_one]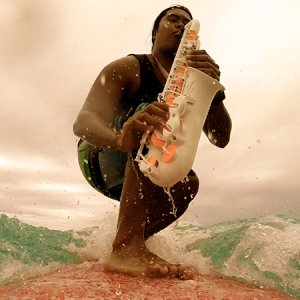 Where did you go to school?
I did my undergraduate degree at Long Island University at C.W. Post, majoring in classical piano and minoring in accounting. During this time, I was studying saxophone as well. I did my Masters Degree at New York University, in Music Education.
[/twocol_one] [twocol_one_last]
[/twocol_one_last]
Setup/Gear/Manufacturer of Instruments:
I play all saxophones, piano, and some flute, clarinet, drums, guitar, and ukulele, and kazoo and slide whistle. But I only perform professionally on saxophones and piano.
My main axe is tenor saxophone. My set up is a P. Mauriat 66-RUL, Theo-Wanne Ambika 7*, and either Rico Jazz Select 3s or Lupifaro Jazz Cut 2.5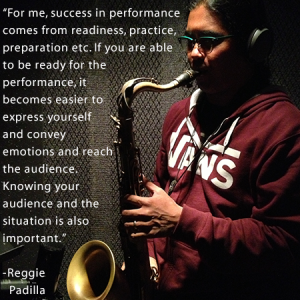 Why did you begin studying music?
I started playing piano at age 7 and saxophone at 9. That makes a grand total of 27 years of playing music.
I began studying music initially with my parents encouragement. I eventually studied in college because I loved the feeling of performing and interacting with the audience;seeing people in the crowd dance, react, and enjoy what musicians offer. I fell in love with this feeling, and basically sought more performance opportunities and ways to improve my craft.
What are you doing with music right now?
Right now, I am currently a free lance musician and music educator in Honolulu. I teach private lessons and also teach the big band at the University of Hawaii at Manoa. I also teach an after school jazz improv/combo class at Iolani High School. I've recently recorded my second album, and its due for release this spring 2014 (you can read our review of his first album, Almost Home, here). I will be performing at the Manila Jazz Festival this March, 2014.
Who are some of your influences?
My influences are many. Of course the entire jazz saxophone lineage, but I am partial to Bird, Stitt, Sonny Rollins, Hank Mobley, Trane, Charlie Rouse, Stanley Turrentine, Lester Young,etc… Currently, I really enjoy Joel Frahm's playing and Chad Lefkowitz Brown.
Who do you/have you studied with?
I've studied with Professor Stephanie Watt on classical piano. For saxophone, I've studied with Professor Alex Stewart, Shuichi Komiyama, and Rob Scheps.
What do you plan on doing with music in the future?
For the future, I plan to continue to tour and travel the world via music, and continue meeting new friends. I hope to keep writing more and releasing more albums.
What are your thoughts on what it takes to become a successful performer?
For me, success in performance comes from readiness, practice, preparation etc. If you are able to be ready for the performance, it becomes easier to express yourself and convey emotions and reach the audience. Knowing your audience and the situation is also important too. I like to "play the room" as they say, which doesn't necessarily mean selling out. Other skills required outside of musical ability include punctuality, good manners, social skills, organizational skills, promotional skills. These are also essential in being a great performer.
What is your advice to an up and coming musician?
Advice to up and coming musicians: make sure to have fun playing music. It takes a lot of hard work, time, dedication, blood sweat and tears, but in the end we are playing something. And for me its fun to play! If you are in school still, please take advantage of your time and practice, hone your craft, and perform as much as possible. As you get older, life happens, and you will get busier and busier…sometimes finding time to practice is tough:)
---
Interested in having your profile featured on our site?
Teen Jazz is also looking for young Jazz Artist features, so you could become a feature if you apply. You will be notified by email of the status of your application.
Terms and Conditions:

(A) You cannot submit one sentence answers to the Teen Jazz Artist Application form questions, they must be a short paragraph.

(B) You must respond to the confirmation email that you receive from Shannon Kennedy after you submit your profile or your profile will not be published on Teen Jazz.

(C) Pictures and Contact Information on your page are optional, but let us at Teen Jazz know if you would like to have both or either on your profile.
[button link="https://teenjazz.com/apply/"]Apply Here[/button]
[template id="182″]