Show Off Your Involvement with Badges
We're introducing a new aspect of what it means to be a Teen Jazz Community member by offering our artists badges that they can earn as part of their interaction with the community.
What are badges?
Our badges are symbols of recognition for those who achieve certain milestones on Teen Jazz. You can now earn badges on Teen Jazz by applying to be an artist, contributing posts, commenting and more. Here are just a few of the badges you can earn (we'll be adding more soon).
Badges You Can Earn on Teen Jazz
Teen Jazz Artist

Apply to become a featured member of our community and earn your first badge. We feature the profiles of up and coming musicians and it's easy to apply. All you have to do is fill out this form using complete sentences and if you're accepted, you can have your own page on Teen Jazz with clips and videos of your music! Apply here.
---
Teen Jazz Contributor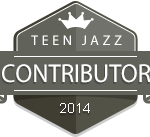 Write a guest post on Teen Jazz and you can earn the contributor badge for the year that your article is published. That means you can earn a new badge for each year you contribute articles. We're always looking for reviews, advice articles and music lesson posts. You can check out our contributor guidelines here.
---
Teen Jazz Top Commenter
Write comments on our posts and earn badges based on the number of comments you've left (5 comments, 10 comments, 25 comments, 50 comments, 100+ comments).
---
Teen Jazz Sponsor

If you decide to advertise on Teen Jazz to promote your upcoming music release or music product/service, you'll earn the Teen Jazz Sponsor badge.
More Badges Coming Soon