Are you ready to give your music brand an extra boost? This 172-page workbook is a great way to get started. With 30 challenges to help you work towards a better brand, a collection of helpful resources, and a case study, you can give your brand the attention it deserves.
Improve your music brand with 30 daily challenges. We'll walk you through it, step-by-step, and make the process simple.
When it comes to our music, we want to put our best foot forward, but there's a lot involved in presenting a clear, consistent brand image. Whether it's the images we use, the tone in our writing, or the music itself, we have quite a bit to think about.
That's why we've created "30 Days to a Better Music Brand."
We want to help you utilize the tools available to your to create the ultimate brand for yourself as an artist.
The book is available for only $2.99!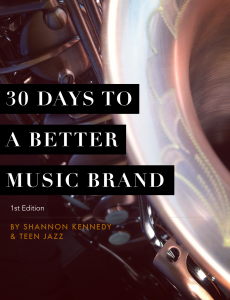 Included in "30 Days to a Better Music Brand":
– The PDF + Kindle Versions of our 172+ pg. Guide
– A Sample Chapter of "The Album Checklist"
– 30 Actionable Tips to Help You Improve Your Brand
– Tons of advice on branding
– Free updates – the next time we update the book, we'll send you the new version free!
Get your copy of "30 Days to a Better Music Brand"


(Automatic Download)
"Shannon has done an excellent job in bringing new artists current in how to better brand their goals and music. She has explained in an upbeat and very informative way in how to improve an artist's brand in 30 days. It's an amazing and "must" read. Kudos to Shannon's gift of sharing. . . This book will bring direction to many new artists." – J.D. Davis
" Excellent book. Many good tips for developing one's skills, performances, products, and overall promotional ability. Anyone who incorporates even just a few of the 30 tips in this book can't help but improve his/her operation as a self-styled musician. Many of the pointers in this book are not restricted to the music industry and have general applicability for other creative artists (e.g., photographer, author), or simply anyone in business for him/herself and who wants to improve the connection with his/her audience/consumer base." – Fred Cavese
Read more reviews on GoodReads
30 Days to a Better Music Brand is also available on the Amazon Bookstore