[twocol_one]
Setup/Gear/Manufacturer of Instruments:
Amati Saxophone, Phil-Tone Mouthpiece, RJS Reeds
Why did you begin studying music?
Offered in elementary school. My mum loved jazz and was a avid dancer. I used to listen to old Swing (Prez and Coleman Hawkins) and Dance in the living room with her. I always remembered the sound of the Tenor.
[/twocol_one] [twocol_one_last]
Saxophonist Sean Winter
Located in Victoria, British Columbia, Canada
Tenor Saxophone
12 years of playing
---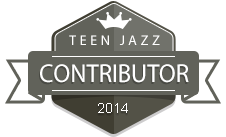 [What's this?]
[/twocol_one_last]
What are you doing with music now?
Studying to better myself as a musician. Playing gigs around town with Blues bands, Soul and Reggae bands and I lead my own Fusion trio called Weapons of Mass Groove.
Who are some of your influences?
Joshua Redman first and Foremost. He's why I switched from Alto to Tenor.
Lenny Pickett being a close second.
Not to mention Dexter Gordon, Hank Mobley, Sonny Stitt, Sonny Rollins
Who have you studied with?
Paul Wainwright, Gene Hardy, Stan Karp and currently studying with Tim Price.
What would you like to do with music in the future?
I plan to keep doing what I'm doing. I don't have pipe dreams of being famous. I'm just trying to build a solid base and reputation around my local scene so I can be financially stable for my family.
Anything else you would like to add?
I came up through the Victoria High School R/B program. I owe a lot to it. We played internationally at Tivoli Gardens in Denmark and at The Cavern Club in Liverpool.
We played with Martha Reeves from Martha and the Vandellas, Jim Byrnes and were the first Highschool group to open and close an international Jazz Festival.
Deeply grateful this is my roots.
Sean is a contributor to Teen Jazz, read his articles here:
---
Interested in having your profile featured on our site?
Teen Jazz is also looking for young Jazz Artist features, so you could become a feature if you apply. You will be notified by email of the status of your application.
Terms and Conditions:

(A) You cannot submit one sentence answers to the Teen Jazz Artist Application form questions, they must be a short paragraph.

(B) You must respond to the confirmation email that you receive from Shannon Kennedy after you submit your profile or your profile will not be published on Teen Jazz.

(C) Pictures and Contact Information on your page are optional, but let us at Teen Jazz know if you would like to have both or either on your profile.
[button link="https://teenjazz.com/apply/"]Apply Here[/button]
[template id="182″]