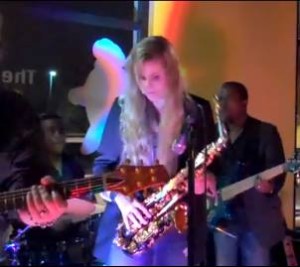 This article is a little bit late because it took me a while to write it. I knew what I wanted to say, but each time I tried to get it down, the words came out in an incoherent mess and so I kept putting it off. There are so many things to say about this talented musician, educator, and friend whom we've recently lost and I know there are others who can say it much more eloquently than I, but I wanted to get it down and share it with you.
The first time I met Ricky Lawson was out on the front steps of a hotel in Galveston as we waited for the artist bus to shuttle us from the hotel to the performance venue. As we stood waiting, I couldn't help but notice that he was wearing a Steely Dan jacket. At the time I was really into the band, so I looked at him and told him just that.
He smiled politely at me and said, "thank you, it was given to me when I went on tour with them."
I was floored. Little did I know at that time that I was speaking to a prolific performer who had not only toured with Steely Dan, but Michael Jackson, Whitney Houston, Stevie Wonder, and countless other talented artists.
I didn't perform with him that night, but it wasn't long after. In 2007, we each performed as part of the Brian Culbertson Smooth Jazz Cruise. The cruise was really my first big performance opportunity and I was somewhat nervous. When I saw Ricky backstage and told him that I was there to perform, he said he would keep an eye out for me (the first night was a jam session). It was both intimidating and encouraging, but it was that little push of support I needed that night. It also lead to my discovering that Ricky was as amazing at being an educator as he was in his role as a performer.
Over the years I would have several more opportunities to perform with Ricky and each time he would offer me advice to not only improve my playing, but my overall performance. His comments were always sincere, well-meaning and infinitely helpful. He was a great friend, mentor and musician and he will be greatly missed by many.
Throughout his career, Ricky Lawson performed and recorded with artists including Michael Jackson, Whitney Houston, Eric Clapton, Phil Collins, George Benson, Al Jarreau, Bette Midler, Quincy Jones, Steely Dan, and the list goes on.
He began playing drums at the age of 16, borrowing his uncle's drum set and taking the local Detroit bus system to travel to his performances. Lawson attended college for one year before leaving to tour with Stevie Wonder. In 1986 he was awarded with a Grammy for his performance on "And You Know That" with the Yellowjackets.
He passed away due to a brain aneurism at the age of 59 in December 2013.