Are you ready to improve your music brand?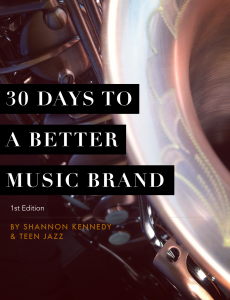 When it comes to the music we release, we aim to put our best foot forward and one of the best ways to do this is by doing so as an identifiable brand. But there's a lot involved in presenting a clear, consistent brand image. Whether it's the images we use, the tone in our writing, or the music itself, there is quite a bit to think about.
That's why we've created "30 Days to a Better Music Brand."
We want to help you utilize the tools available to you to create the ultimate brand for yourself as an artist.
As a part of this guide, you'll improve your music brand with 30 daily challenges. We'll walk you through it, step-by-step, and make the process simple.

What's Included as part of "30 Days to a Better Music Brand":
For $2.99 you get:
– The PDF Version of our 172+ pg. Guide
– The Kindle Version of our Guide
– A Sample Chapter of "The Album Checklist"
– 30 Actionable Tips to Help You Improve Your Brand
– Tons of advice on branding
– Free updates – the next time we update the book, we'll send you the new version free!
You also get access to how to join the #TJmusicbranding community.
So are you ready to give your music brand the attention it deserves?
Get 30 Days to a Better Music Brand here:


(automatic download)
The book is also available on Amazon.