Why did you begin studying music?
I always gravitated towards music, picking out melodies on my grandparents piano. I knew from an early age that I wanted to pursue music professionally for the rest of my life.
Who are some of your influences?
I am open to all styles of music: Moacir Santos, Olivier Messiaen, Sammy Nestico, Rob McConnell, Ben Monder, Gilad Hekselman, Ed Bickert, John Coltrane, Bud Powell, Brad Mehldau, Alex Sipiagin, The Faceless, Necrophagist, John Mayer, D'Angelo, Robert Glasper, and many, many more.

Guitarist Zakk Jones
Located in the Columbus, OH
Guitar
Years Playing: 10 years
Zakk Jones | (510)-710-6709
Zakkjonesguitar@gmail.com | Zakkjonesguitar.com
---

Setup/Gear/Instruments: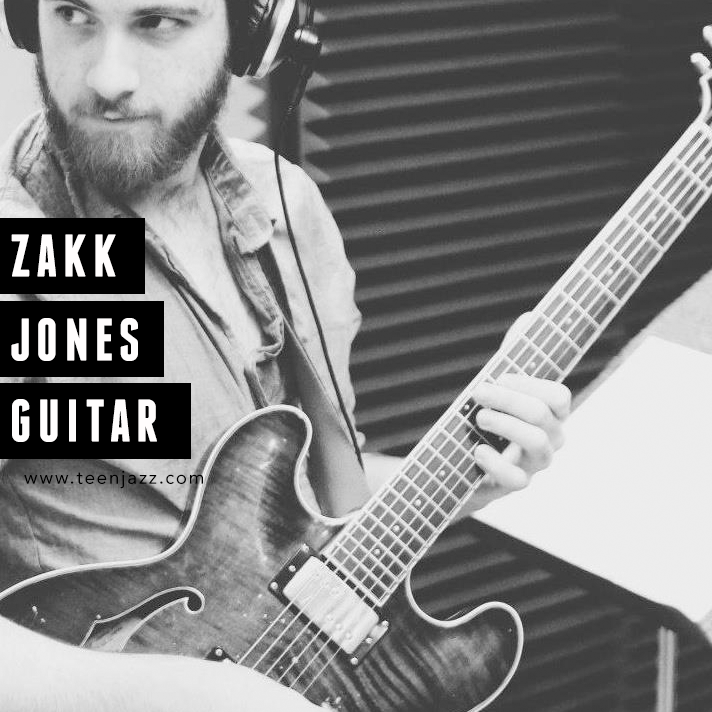 Guitars: Eastman T185MX
Fender TelecasterYamaha G-245s II
NylonAmps: Roland Cube 80
JazzkatPedals: MXR Chorus, EQ and Delay
Wampler Sovereign Distortion
BOSS Compression, Loop, and Distortion
Cry Baby Wah Wah
EP Booster
Voodoo Lab Sparkle Drive
Ernie Ball Volume Pedal
JRStrings: Thomastik, Infeld, D'addario
What are you doing with music right now?
I lead a variety of groups, ranging from duo to octect formats. I frequently perform with my trio and my sextet "Screeching Owl". I am in the middle of finishing an original album of 6 compositions, encompassing my career so far as a writer/arranger and performer. This will be released along side a professional video shoot of one of the tunes, and will aid me in booking a tour in August of 2015. I also frequently play solo guitar at farmer's markets and art galleries.Aside from my own groups, I am involved in a professional wedding band call the "Blue Water Kings", a pop/cover group "The Jordan Millisor Band" as well as various jazz groups in the central ohio area.I love composing and arranging, recently completing projects with big bands and larger ensembles.I also teach both privately and through a few different music studios in the Columbus, Ohio area.I'm always listening/seeing live music when I'm not performing or practicing myself!
Who have you studied with?
Stan Smith – Guitar/Composition
Brett Burleson – Guitar
Gilad Hekselman – Guitar
Corey Christiansen – Guitar
Rotem Sivan – Guitar
Adam Rogers – Guitar
Mark Flugge – Piano
Dr. Lou Fischer – Arranging
What are some of your goals musically for the future?
I hope to continue gigging, both with my own groups as well as being an avid "sideman". I have a vested interest in arranging, hoping to write for professional jazz big band/orchestras. I also enjoy teaching, and transcription/engraving services. Grad school will be in my future as well.
Any addition information you would like to add?
Zakk Jones is a Columbus based guitarist, composer/arranger and teacher, currently finishing his Bachelor's degree in Jazz Studies at Capital University. Originally from Portland, Oregon, his musical studies started at the age of 6, when he began playing piano and composing original music. His involvement in the Fear No Music project led to a National Award in composition at the age of 11.Around the same time, Zakk picked up the guitar, first being influenced by rock and metal. He now regularly plays Jazz, Classical, Fusion, Pop and Brazilian styles among others. In his three years on the Columbus scene he has performed at Dick's Den, Worthington Inn, Brother's Drake Meadery, Rumba Cafe, Park St. Tavern, Natalie's Coal Fired Pizza, Columbus Performing Arts Center, Columbus Jazz & Ribs Festival, farmer's markets, art galleries, weddings and corporate events. Opportunities have taken him all across the Midwest, with summer gigs in Port Clinton, OH and even further to Atlanta, Dallas, and San Diego for the Jazz Education Network Conference where he has been both a performer and stage manager.Zakk regularly performs with the Jordan Millisor Band, Chase Potter, Bluewater Kings Band, Wake Fold and many other groups/artists. As a bandleader, Zakk has groups ranging from duo to octet formats, currently focusing on his sextet, "Screeching Owl". At Capital he has studied with Stan Smith and Brett Burleson, additionally having the opportunities to take lessons with Corey Christiansen, Adam Rogers, Gilad Hekselman and Rotem Sivan. Besides performing, Zakk Jones is an avid composer/arranger, private teacher, and provides transcription services.
---
Interested in having your profile featured on our site?
Teen Jazz is also looking for young Jazz Artist features, so you could become a feature if you apply. You will be notified by email of the status of your application.
Terms and Conditions:

(A) You cannot submit one sentence answers to the Teen Jazz Artist Application form questions, they must be a short paragraph.

(B) You must respond to the confirmation email that you receive from Shannon Kennedy after you submit your profile or your profile will not be published on Teen Jazz.

(C) Pictures and Contact Information on your page are optional, but let us at Teen Jazz know if you would like to have both or either on your profile.
Apply Here