Our latest interviewee, Ronny Jordan is a Grammy-nominated guitarist from London England. Mr. Jordan has built his reputation an influential and innovative guitarist over the last twenty years not only as a solo performer, but through tours and performances with artists such as George Benson, Maysa, Mos Def, Courtney Pine, Jonathan Butler, Pieces of a Dream and more. He has been awarded the Gibson Guitarist of the Year Award and the MOBO Best Jazz Act Award and currently has eight albums as a solo artist with a ninth on the way (The Antidote
, The Quiet Revolution
, Light to Dark
, Brighter Day
, Off the Record
, At Last
, After 8
, and The Rough & The Smooth
).
Ronny Jordan was kind enough to grant us an interview and share some of his experience as a professional musician. In the following interview he details the steps he took to achieve his current success, his advice for up and coming musicians and a few of his upcoming projects. We hope you enjoy our interview with him!
The Interview
When did you first begin seriously studying your instrument?
I am completely self taught, never went to music school and cannot read music. I started playing at age 4 on a four string ukulele and by the time I turned 8, I started playing a regular 6-string guitar and I did my studying in church playing Gospel music and listening to the music on both the TV and radio.
Who are your greatest influences?
My greatest musical influences are too numerous to name. First off, there's my guitar idols Wes Montgomery, Charlie Christina, Grant Green, George Benson, Eric Clapton, BB King, Jeff Beck, Jimi Hendrix, Jimmy Nolan (James Brown), Chuck Berry and T Bone Walker and one or two more. Then there's the jazz legends Miles Davis, Charlie Parker, John Coltrane, Billie Holiday, Ella Fitzgerald, Dizzy Gillespie, Sonny Rollins, Dexter Gordon, Thelonius Monk, Jimmy Smith, Larry Young, Donald Byrd and the Count Basie Orchestra to name a few and then there's also many other influences from the world of Gospel, classic Soul/RnB, Funk, Reggae, World, Folk, Rock and Pop.
Who or what gave you the confidence to pursue music as a career?
I was very focused and truly believed in myself even when others didn't besides I knew back then that I had a style that was very unique, that would stand out on its own.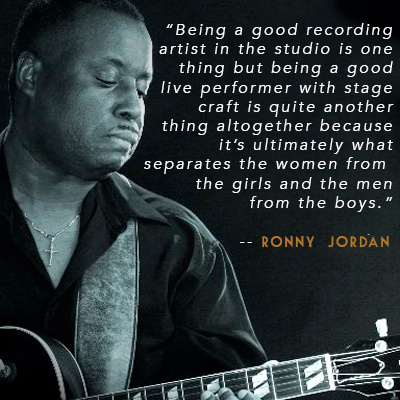 What are your thoughts on what it takes to be successful as a performer? Do you think any other skills are needed aside from the ability to play your instrument well?
Being a good recording artist in the studio is one thing but being a good live performer with stage craft is quite another thing altogether because it's ultimately what separates the women from the girls and the men from the boys. When it comes to performing live on stage, the performer has to be able to take their performance to a whole new level. Audiences believe what they can see, hear, feel and prove and just having a good record is really only half the story because being able to really deliver on a live stage can only enhance AND increase the performer's credibility and longevity making him/her into the complete, true artist.
What are some of your goals musically for the future?
To continually strive to be a better musician, live performer, writer, producer and arranger, release more albums and play more live gigs and last but not least, finally owning my own recording studio!
What inspires you to continue to pursue music? Have you ever come close to giving up and if you did, how did you overcome it?

What inspires me to continue to pursue music is the pursuit of musical excellence and no, I never once came close to giving up music plus I would never do so anyway, not in a million years. So far, my musical journey has been one helluva ride and long may it last.
What are some of the things you enjoy most about your career as a performer/recording artist?
Traveling the world, meeting people, meeting my musical heroes that are still here with us, being paid to do what I enjoy the most and making people happy. Needless to say, I am truly blessed.
What was your lamest gig and how did you learn from it?
My lamest gig was one that I played called Greenbelt UK back in the very early 90s. My regular drummer bailed out on me at the 11th hour and 59th minute and although the drummer who replaced him is a very good drummer in his own right, it was his very first time playing with me and the band (no rehearsal) and he obviously didn't know the tunes or the arrangements but that said, he did the best he could. I scolded my regular drummer for not giving me any advance notice and I eventually replaced him.
What was the best and why?
My best gig? This one is difficult as there has been a great many but if I had to name one, it would have to be the gig I played in Athens, Greece back in '96. It was the very last one of my 3-month world tour. That gig was unreal! My band and I performed pretty much every night for three straight months and so by the time we played Athens, the band was so tight, we didn't even have to look at each other for cues! From the intro to the very last note played, it was pure nirvana!
Hobbies other than Music:
Golf, working out at the gym, reading, playing chess/backgammon, table tennis, playing pool, and other stuff.
What would your advice be for an up and coming, young musician?

Study hard when it comes to education, learn a trade or two plus a few languages and have a Plan B just in case things don't work out in the music industry. Take the "walk before you run" approach by first becoming a semi-pro until a deal is signed then go full time as long as the money's right… Avoid drugs, alcohol excess. That one is important. As you hear in the media, so many artists begin using drugs and then have to pause their careers whilst they attend rehabilitation clinics to get help. Whilst it can seem like a good coping mechanism at the time, it's not worth it. Perhaps it's worth getting one of your family members to ask you to do a drug test every now and then as you advance with your musical career. By visiting https://www.countrywidetesting.com/collections/cocaine-coc-drug-tests, people can access multiple different drug tests that detect for substances like cocaine, for example. That would ensure that you have no drug traces, keeping you in the moment to enjoy your music. Additionally, learn as much as possible about how the recording industry works and operates because knowledge is power and practice as much as you can so you can make your mistakes in private.
Where can we find more information?
http://www.ronnyjordan.com
I'm also on Facebook, Twitter & My Space
New releases and projects coming up:
The first single off my upcoming new album "Straight-Up Street (Deluxe Edition)" will be released with a video in late November followed by the new (9th) album's release in January 2014. On the live music front, there are plans to tour Africa, Europe, Australia & New Zealand, Japan and other parts of SE Asia and of course North America.