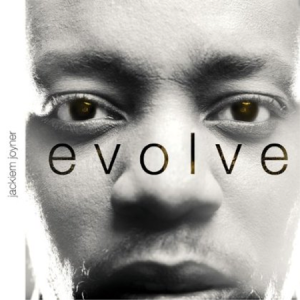 On April 29, 2014 saxophonist Jackiem Joyner will release his fifth solo album, Evolve. The album, with eleven original and self-produced tracks, certainly exemplifies Joyner's evolution as an artist, performer and saxophonist and so far, stands out as one of the most diverse and interesting projects to be released this year.
Jackiem Joyner teams up with a great cast of musicians on Evolve including Kayta Matsuno and Kyle Bolden on electric guitar, Tim Bailey on bass, Raymond Johnson drums, Bill Steinway on keyboards, Gerald Albright on tenor sax, Keiko Matusui on piano, Paul Nowell on trombone, Ilya Serov on trumpet, and Matt Hamel on all instruments except saxophone on "Later Tonight." The talent included as part of the album's line-up is apparent from start to finish and fans will be pleased to know that they'll get the same experience live – many of the musicians on the album are the same performers whom join him on the road as part of his tours.
Diving into the music… There are a number of tracks that caught my attention on the album, particularly "Generation Next," "Evolve," and "A Gentle Walk on Water." There's definitely a nice mix on the project, Joyner succeeds in transitioning from the more contemporary, urban tracks such as "Double Bass" to the more rock-oriented "Born to Fly" and to the R&B influenced "Interlude" and "Later Tonight."
About Jackiem Joyner
Now in his mid-30s, Virginia-native Jackiem Joyner, has joined the ranks as one of the leading performers in contemporary jazz. He got his start when released his first album, "Babysoul," in 2007, earning recognition as the Debut Artist of the Year from Smooth Jazz News. He went on to score two #1 hits on the Billboard Contemporary Jazz charts with his sophomore album "Lil' Man Soul."
Joyner states that the tracks on Evolve were written with live performance in mind, and in the clip below you'll see he succeeded in penning tunes that are perfectly suited for the energy required on stage.
Get Evolve
on Amazon.
Title: Evolve
Artist: Jackiem Joyner
Date: April 29, 2014
Genre: Smooth Jazz
Label: Artistry Music
Tracks:
01 Generation Next
02 Europa (feat. Keiko Matsui)
03 Double Bass
04 Breathe
05 Evolve
06 Born to Fly
07 Interlude
08 Later Tonight
09 See Through Me
10 Big Step (feat. Gerald Albright)
11 A Gentle Walk on Water
Get Evolve
on Amazon.