Why did you begin studying music?
I started playing saxophone because I wanted to continue the tradition of my grandpa. He played saxophone and so did one of his sons (Joe Silva). I basically was raised in a musical family, with my dad (Reggie Silva) being the guitarist, composer, vocalist, producer, and musical mentor.
What is your instrument setup?
Alto Saxophone – Julius Keilwerth SX90 / mouth piece S 90 / 3 reed Vandoren
Tenor Sax – Collegiate / 3 Vandoren / mouth piece Dukoff D 5
Flute – Pear PF -501
Shure – cordless microphone
Congas – LP Galaxy M. Cohen

What are you doing with music now?
Currently I am still very active in playing my saxophone and other instruments I could put my hands on. Other than playing, since 2011 my dad has given me the responsibility to promote his band (The Blu J'z) that I am currently performing in. By promoting, I mean finding gigs and promoting his Cd "Feelin' the Moment." From then to now with God's help The Blu J'z has been recognized by various smooth jazz media sources (magazine, airplay, interview, Cd review, and more) and have also been given the opportunity to open up for renowned smooth jazz artists such as Boney James, David Sanborn with Bob James, Brian Culbertson, Keiko Matsui, Fredric Yonnet, Patrick Lamb, Paul Taylor and Marion Meadows. To this day, I still promote my dad's music because I strongly believe his music is very unique. Currently, we both are working on The Blu J'z second album, in which it is father and son collaboration.
Who are some of your influences?
My first influence comes from God, who has given me the gift of music to share to others. My dad plays a vital part as a father figure and musical mentor. A musician who made a strong impact on me is Maceo Parker (Saxophonist), in which I've transcribed many of his songs. His energetic funk style has awakened me as musician and performer, "I know now what I must do." Also, I have come to find that, whatever influences me as a person is best expressed through my saxophone.
Who have you studied with?
In high school (Roosevelt High School) I received private lessons from saxophonist Gene Doi who is a highly respected and sought out musician. In college (California State University, Fresno) I received private lessons from Doctor Alan Durst, who is also highly respected and sought out musician and professor.
What do you plan on doing with music in the future?
My future plans are to finish the second Blu J'z album and to hopelly be an established band who performs at well known Jazz and Smooth Jazz related festivals, concerts, and venues.
Where can we find your music?
On CDBaby, iTunes, and Amazon.
Album title: Feelin' the Moment
Artist: The Blu J'z
Date: Released 2001
Genre: Jazz, Latin, Funk, Pop, R & B
Label: Independent
Any additional information you would like to add?
These words, "I will never give up" is what I told myself in first grade which continues to inspire me to this day in everything I do and experience, but it is ultimately the belief that through God anything is possible.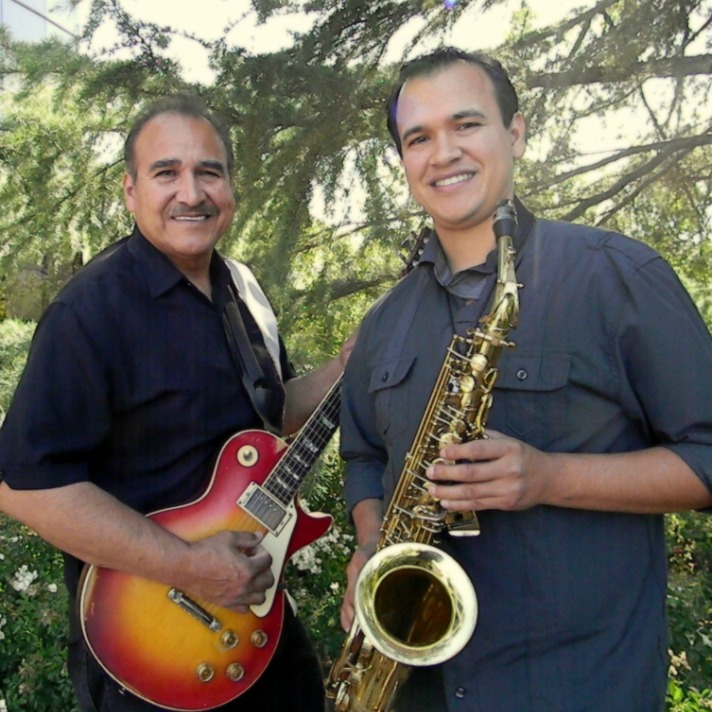 The family-originated band The Blu J'z began as the vision of Reggie Silva. He grew up in a family of musicians, so it's no coincidence that he chose to make music his life. As a guitarist, composer, and vocalist, Reggie's influences came from performing and listening to bands and artists of the seventy's era, like Earth Wind Fire, Chicago, Carlos Santana, Wes Montgomery, George Benson, Stevie Wonder, James Brown, Tower Power, Andre Crouch, The Winans, and many others. In 1998 Reggie's vision in creating The Blu J'z sound originated from a dream, a dream of hooky melodies that paved a way in creating their first Cd in 2001, "Feelin' the moment." Reggie felt a connection with the album's title because "it came from the heart."
Originally starting out as a five piece band, his son Richard Silva (saxophonist) joined the band during his sophomore year in high school. Since then they became popular around Fresno's jazz music scene, performing familiar cover tunes, and along with promoting their original material that overall gave a smooth jazz vibe. Their unique sound that attracted listeners consisted of styles of Funk, Rock, Jazz, Pop, Latin, and Rhythm and Blues.
In 2000, a newspaper writer from the Fresno Bee stumbled upon one of their performances at an Indian Casino named Table Mountain. Afterwards, he was compelled to write an article in which he titled "Family Band," which was a full front page article on the Life Section displayed on Thursday, April 20, 2000. The original band members included: Reggie Silva (Band leader, guitarist), Joe Silva (Saxophonist, vocalist, percussion, brother), Richard Silva (Saxophonist, percussion, son), Julian Molina (Bass), Ricky Gonzalez (Rhythm guitar), and Juan Chevalier (Drummer, vocalist).
In addition to performing at Fresno's hot spots, they got a chance to perform twice (2001 and 2002) at the Sacramento Jazz Festival, which in 2001 was the year The Blu J'z debut their first Cd. Another big event was in 2004 when they were asked to open for Fresno's own Smooth Jazz Festival at Coombs Riverbend Ranch.
Within 4 years of the article, the band decided to break from the entertainment business. During this break many changes occurred in the structure of the band to include original members' passing and moving away. Around mid-2010 Reggie was diagnosed with throat cancer. As a cancer survivor, in mid -2011 Reggie was ready for a comeback and this time his aspirations would lead him to rely on the abilities of his son Richard Silva. Richard Silva began to promote stronger for the Smooth Jazz sound that Fresno had slowly been lacking in the music scene since the departure of Smooth Jazz music from the local radio station 96.7.
Since Richard Silva took over the promoting of the band they have gained national radio attention by way of internet and have been recently nominated for Best Indie Smooth Jazz Group from GHP from Texas. The promotion of our originals has helped us gain recognition worldwide not only through airplay but also interviews. The Blu J'z has since been recognized by major magazine companies both in California (Coffee Talk Jazz Network) and Texas (Jazz In M.E.E.) By the watchful eye of promoters and diligent hard work they had been asked to be an opening act for smooth jazz artist Boney James in concert at Woodward Park Fresno, California in 2012. It was this performance that has helped opened the door to many other opportunities including opening for other well-known smooth jazz artists to include Fred Yonnett, David Sanborn with Bob James, and Brian Culbertson, and Patrick Lamb. To this day Richard is very much determined in spreading the word about The Blu J'z. Recently from Jazz In M.E.E's April Magazine (2014) they referenced our Cd and wrote this, "Buyer beware, the melodies will grab your attention and provide an intense form of musical expression. Watch out! This band is creating a buzz.
"Our goal is to express what we feel, while giving the audience an entertaining experience." Reggie Silva
---
Interested in having your profile featured on our site?
Teen Jazz is also looking for young Jazz Artist features, so you could become a feature if you apply. You will be notified by email of the status of your application.
Terms and Conditions:

(A) You cannot submit one sentence answers to the Teen Jazz Artist Application form questions, they must be a short paragraph.

(B) You must respond to the confirmation email that you receive from Shannon Kennedy after you submit your profile or your profile will not be published on Teen Jazz.

(C) Pictures and Contact Information on your page are optional, but let us at Teen Jazz know if you would like to have both or either on your profile.
Apply Here